Hotels and Retreats
Jump to navigation
Jump to search

Hotels & Retreats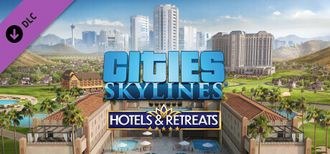 ---
Type
---
Release date
2023-05-23
---
Store: Mini-Expansion
Hotels & Retreats is a mini-expansion pack for Cities: Skylines. It was teased on 2023-03-15[1], and announced on 2023-04-27[2]. It was released on 2023-05-23[3], alongside the "Brooklyn and Queens", "Industrial Evolution" and "Railroads of Japan" CCPs, as well as the "90's Pop Radio" and "Piano Tunes Radio" music packs.
Spruce up your City with the finest hôtellerie with "Hotels & Retreats"! With everything from conference hotels for your business travelers, to mountain hotels for nature lovers. Start with a small hotel chain and unlock more luxurious options as you make your way to a successful hotel business with a significant tourism boost for your city.
"Hotels & Retreats" includes:
Hotel Buildings - Hostels, cabins, hotels, luxurious resorts… you name it! Add a series of hotel buildings to your city, on a range from budget to luxury.
Hotel Management - Set your hotel to success and attract different tourist groups. Start with one-star hotels and unlock new options as they start generating revenue and increasing popularity.
Tourism Buildings - New structures will support your hotels: parks, restaurants, playgrounds, and cafès.
Location is key - Matching hotels with good locations will be paramount as you manage your hotels, as locations on the map will attract different groups of tourists.
New Maps - There are 5 new maps for your hotels (3 European-inspired maps, 1 tropical map, and 1 temperate map).
Achievements - There are three new achievements.
Main article: 1.17.0

Hotel Management Feature

Manage Overnight Fees
Customize Hotel Chain Name
Choose From 7 Different Hotel Logos
Organize Hotel Events
Hotel locations info view

New Buildings

15 New Hotel Buildings
9 New Tourism Buildings

5 New Maps

Coastal Flatland
Emerald Cliffs
Maze Valley
Shifting Sands
Weaving Waters

3 New Achievements
2 New Chirper Hats
New Chirps
Main article: Developer diaries