Match Day
Jump to navigation
Jump to search
Match Day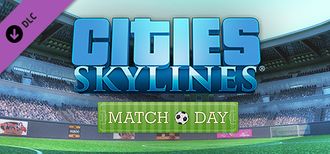 ---
Type
---
Release date / Patch
---
Store: Mini-Expansion
Match Day is a free DLC which was released for Cities: Skylines alongside Patch 1.5.0-f4 on 09 June 2016, and is a prerequisite for the Stadiums: European Club Pack. It was announced the day before in a "Word of the Week" post on the forum.[1]
Official Description
[
edit
]
"Match Day Introduces the Team Spirit to Your Town! Available for free to all players of Cities:Skylines "Match Day" allows mayor-players to add stadiums to their towns – and comes with all of the benefits and challenges of hosting major sporting events in their citizens' backyard."
Features
[
edit
]
Football Stadium
Football match mechanics
Possibility to customize football team colour
New policies
New Chirps
New Chirper hat
Official screenshots
[
edit
]
Match Mechanics
[
edit
]
Football matches begin every 48th in-game Saturday, and take about 33 in-game days from start to finish. Your city will see increased traffic during matches, and each game earns the city money through ticket sales and prize winnings. Crime could potentially increase near the stadium during matches, which can be alleviated with the stadium-specific Match Security policy (see below).
Policies
[
edit
]
The "Match Day" policies are accessed by clicking on the stadium, not from the normal policies window. Ticket prices may also be set there.
Come One, Come All - Public transport is free on match days.
Match Security - Hires security personnel to keep crime low around the stadium.
Subsidized Youth - Spending money on training young players increases the odds of your team winning.
The match mechanics and policies only apply to the Stadiums in the "Football" tab of the "Unique Buildings" menu. This includes the stadiums from the "Stadiums: European Club Pack" DLC. They do not apply to the European Theme Unique Building Landmark "Sports Arena", or the Level 6 Unique Building "Stadium".
Patch Notes
[
edit
]
Patch 1.5.0
[
edit
]
Football Stadium
Football match mechanics
Possibility to customize football team colour
New policies
New Chirps
New Chirper hat
Patch 1.8.0
[
edit
]
Fixed: Rebuild button in Stadium Info Panel is not localized in any language other than English
Patch 1.10.0
[
edit
]
Fixed: Football Stadiums sometime gets 'Not Operating' without communicating to player the reason behind it
References
[
edit
]