Heart of Korea
Jump to navigation
Jump to search

Heart of Korea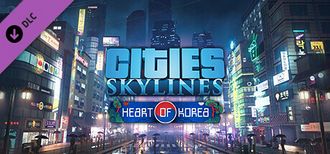 ---
Type
---
Release date
2022-11-15
---
Store: Cosmetic pack
Content Creator Pack: Heart of Korea is a CCP DLC for Cities: Skylines that was announced on 2022-11-08.[1] It is to be released on 2022-11-15 alongside the Skyscrapers CCP, the 80's Downtown Beat and K-Pop Station music packs, and a free update patch.
The buildings in this pack were created by modder "Elvis".
Expand your City with Heart of Korea, a fresh, South Korean-inspired Content Creator Pack by Content Creator Elvis. Explore new cityscapes and get inspired by 60 new assets including service buildings, growable buildings that expand as your area develops, and 8 new unique buildings.
Heart of Korea features 60 assets, including:
29 Growable low-density residential
17 Growable high-density commercial
6 service buildings
8 unique buildings
Main article: Developer diaries

Main article: 1.15.1

8 New Unique Buildings
6 New Service buildings
17 New High Density Commercial Buildings
29 New Low Density Residential Buildings
1 New District Style